Why would a Catholic Media organization award this controversial book first place?
---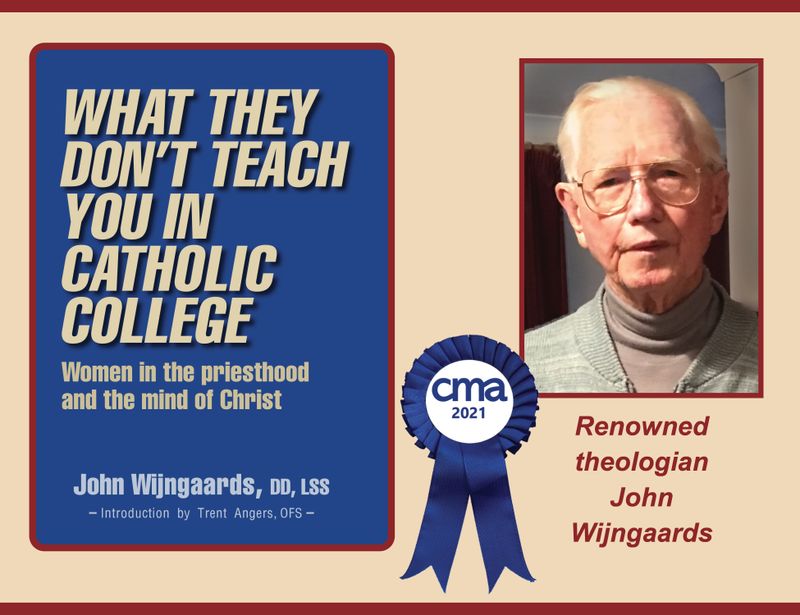 Great news! The Catholic Media Association has recognized a book that advocates for women in the priesthood as the "Best Book by a Small Publisher."

And for good reason.
The Catholic Church is unquestionably in need of reform in several areas, one of which is the need for women priests. This book lays out a solid, well-documented case for women in the priesthood. And it's written by the highly qualified, world-renowned British theologian John Wijngaards.
Leaders of the Church in Rome have traditionally opposed having women in the priesthood. They say they believe Jesus wanted a male-only priesthood – and that he established a permanent norm by appointing only men as his 12 apostles. But the truth is, Jesus' decision was made in light of the cultural norms of the day. Back then, it was a man's world in every way.
But that was 2,000 years ago!
Today, the majority of Catholics in the Western World are in favor of women's ordination – 88% in the U.S., 83% in France, 78% in Spain, 59% in Italy. They see the need. They see the shortage of priests. They sense that women entering the priesthood would be a breath of fresh air for a church that is clearly in need of renewal.
The book is titled "𝘞𝘩𝘢𝘵 𝘛𝘩𝘦𝘺 𝘋𝘰𝘯'𝘵 𝘛𝘦𝘢𝘤𝘩 𝘠𝘰𝘶 𝘐𝘯 𝘊𝘢𝘵𝘩𝘰𝘭𝘪𝘤 𝘊𝘰𝘭𝘭𝘦𝘨𝘦: 𝘞𝘰𝘮𝘦𝘯 𝘪𝘯 𝘵𝘩𝘦 𝘗𝘳𝘪𝘦𝘴𝘵𝘩𝘰𝘰𝘥 𝘢𝘯𝘥 𝘵𝘩𝘦 𝘔𝘪𝘯𝘥 𝘰𝘧 𝘊𝘩𝘳𝘪𝘴𝘵," available from www.acadianhouse.com. Dr. Wijngaards, one of the leading voices in the worldwide movement to include women in the Catholic priesthood, has spent decades uncovering evidence that makes a convincing case for anyone willing to listen with an open mind.
#Womenpriests #Catholicchurch #churchreform #synod #synodalchurch #franciscans #jesuits #catholiclife #catholic

---