The most magic moment of the Saints' Super Bowl...
in
Facebook Posts
,
Homepage Categories
---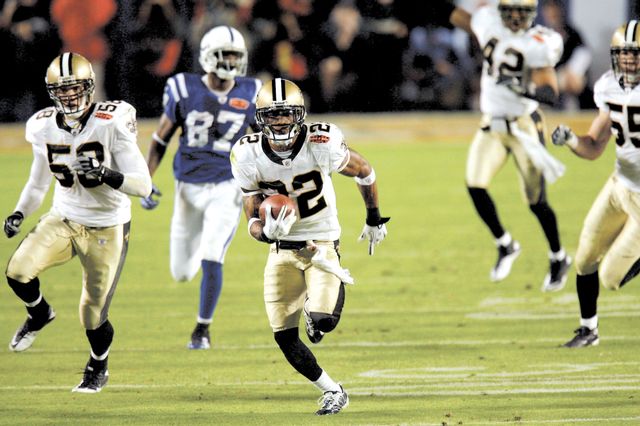 Remember when we knew for sure the Saints were going to win the Super Bowl?
    Remember the truly magic moment when Tracy Porter intercepted a Peyton Manning pass and returned it for a touchdown?
    What a glorious, sensational feeling that was for everyone who was pulling for the Saints!
    Sports journalist Jeff Duncan captures that moment and that magnificent time in his book titled "𝐹𝑅𝑂𝑀 𝐵𝐴𝐺𝑆 𝑇𝑂 𝑅𝐼𝐶𝐻𝐸𝑆: 𝐻𝑜𝑤 𝑡ℎ𝑒 𝑁𝑒𝑤 𝑂𝑟𝑙𝑒𝑎𝑛𝑠 𝑆𝑎𝑖𝑛𝑡𝑠 𝑎𝑛𝑑 𝑡ℎ𝑒 𝑝𝑒𝑜𝑝𝑙𝑒 𝑜𝑓 𝑡ℎ𝑒𝑖𝑟 ℎ𝑜𝑚𝑒𝑡𝑜𝑤𝑛 𝑟𝑜𝑠𝑒 𝑓𝑟𝑜𝑚 𝑡ℎ𝑒 𝑑𝑒𝑝𝑡ℎ𝑠 𝑡𝑜𝑔𝑒𝑡ℎ𝑒𝑟," available from the publisher at
www.acadianhouse.com/sports
. That Super Bowl victory in 2010 really lifted the spirits of the storm-weary people of New Orleans – who were deeply affected by the devastation of Hurricane Katrina, which flooded their city only a few years earlier. 
(This photo was taken by Times-Picayune photographer Michael DeMocker.)
---