The man who started the Cajun restaurant craze...
in
Facebook Posts
,
Homepage Categories
---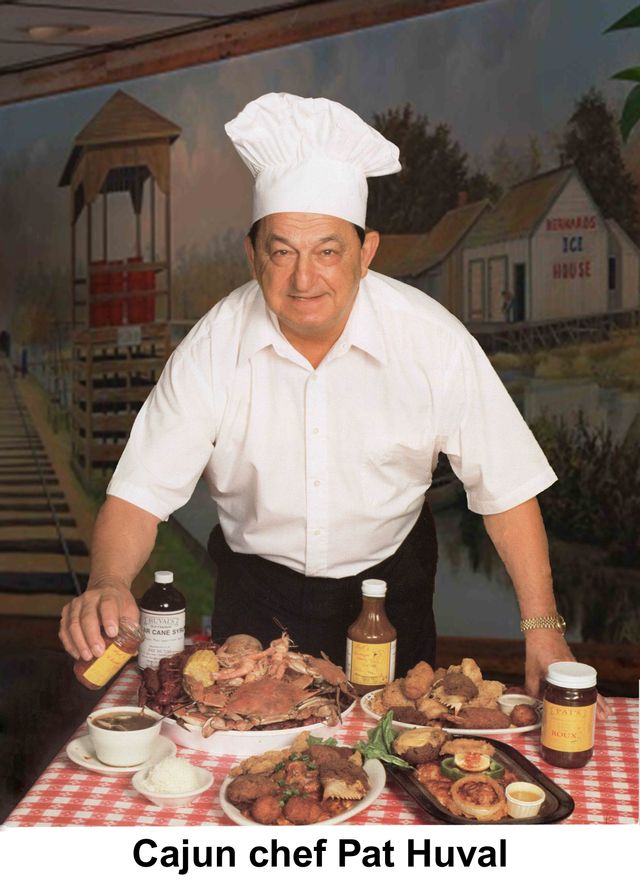 Pat Huval, the founder of Pat's Restaurant in Henderson, La., is synonymous with excellent seafood, especially crawfish and shrimp. (Today the restaurant is called Pat's Fisherman's Wharf.)
    In fact, where the Cajun seafood restaurant business is concerned, he's "The man who started it all," as he proudly pointed out on numerous occasions. His business opened in 1952. Many of the scrumptious seafood dishes – prepared in the tradition of Pat's of Henderson – can be found in authentic Cajun cookbooks such as "
Cajun Cooking (Book 1) – The Original
" and "
Who's Your Mama, Are You Catholic and Can You Make a Roux?
" They're available thru
www.acadianhouse.com.
By the way, Pat is now deceased and the restaurant is run by his two sons, Harvey and Jude, and his daughter, Cynthia Domingue.
    Here's one of Pat Huval's world-famous recipes:
𝗙𝗿𝗶𝗲𝗱 𝗦𝗵𝗿𝗶𝗺𝗽
• 1 pound of fresh shrimp (26 to 30 count)
• 2 eggs
• 1 small can of Carnation milk
• 1 tablespoon of baking powder
• 2 tablespoons of vinegar
• Tony's Creole Seasoning
• 1 cup of flour
1. Remove head and shell from shrimp; leave fantail. Split shrimp down the back and remove the vein.
2. Mix eggs, Carnation milk, baking powder and vinegar.
3. Marinate shrimp for at least one hour in this mixture.
4. Remove shrimp and season lightly with Tony's Creole Seasoning.
5. Dip in flour and fry in hot cooking oil for a few minutes on each side, until golden brown.
Makes three to four servings.
---