'Pistol Pete's' profound message to LSU ball players
---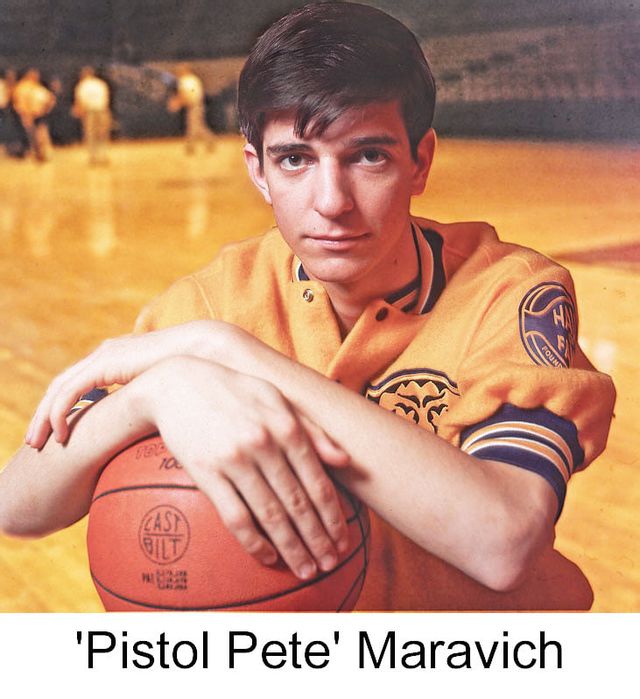 "Pistol Pete" Maravich was invited to give a motivational talk to Coach Dale Brown's LSU basketball team before a big game sometime in the mid-1980s.

It turned out not to be the talk Coach Brown and the players were expecting of this basketball superstar, who had played for LSU from 1967 to 1970.

First, Pete ticked off all his worldly accomplishments: College All-American, led the nation in scoring, biggest pro contract in NBA history, multi-millionaire, walked around with $3,000 cash in his pocket, drank, chased women, lived in a mansion. Then, he paused and lowered his voice:
"But, guys, I was a miserable human being. I thought I had it all.... But I was unhappy, miserable, fed up with life. I had everything society tells us is success."

Then came the bombshell: "I had decided to commit suicide" with a pistol.
"I was just going to put the pistol in my mouth. I was so down in the dumps. For some reason, I set the pistol down on the bed. I didn't know how to pray.... I fell on the bed, prone, face down and said, 'God, if you're there, would you somehow, in some way, please touch my life.'
"Instantly – I don't know how to express it – a peace took over my body, for the first time in my life.... I had been a miserable s.o.b. until I took God into my life.

"Guys, whatever you do, 𝙙𝙤 𝙣𝙤𝙩 𝙡𝙚𝙩 𝙮𝙤𝙪𝙧 𝙥𝙤𝙨𝙨𝙚𝙨𝙨𝙞𝙤𝙣𝙨 𝙥𝙤𝙨𝙨𝙚𝙨𝙨 𝙮𝙤𝙪, or you will end up miserable, as I did."

More of this story can be found in Coach Dale Brown's motivational book, "Getting Over the 4 Hurdles of Life," available at www.acadianhouse.com/motivation&inspirational. In concluding "Pistol Pete's" story, Coach Brown writes: "Pete felt, as I do, that 𝙠𝙣𝙤𝙬𝙡𝙚𝙙𝙜𝙚 𝙤𝙛 𝙤𝙣𝙚𝙨𝙚𝙡𝙛 𝙘𝙖𝙣 𝙣𝙚𝙫𝙚𝙧 𝙗𝙚 𝙘𝙤𝙢𝙥𝙡𝙚𝙩𝙚 𝙬𝙞𝙩𝙝𝙤𝙪𝙩 𝙨𝙤𝙢𝙚 𝙪𝙣𝙙𝙚𝙧𝙨𝙩𝙖𝙣𝙙𝙞𝙣𝙜 𝙤𝙛 𝙩𝙝𝙚 𝙧𝙤𝙡𝙚 𝙤𝙛 𝙩𝙝𝙚 𝙂𝙤𝙙 𝙬𝙝𝙤 𝙘𝙧𝙚𝙖𝙩𝙚𝙙 𝙪𝙨."
---