The Yankee couple who saved the girls' school in Grand Coteau, La. form the destruction of the Civil War
in
Facebook Posts
,
Homepage Categories
---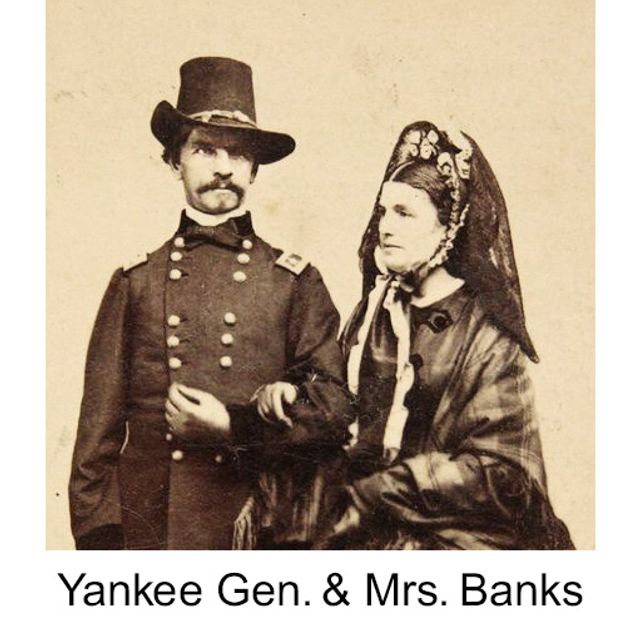 The Academy of the Sacred Heart in Grand Coteau, La., was saved from the ravages of the Civil War in part because of the influence of Yankee Gen. Nathaniel Banks and his wife.
In the Spring of 1863, Gen. Banks' army was sweeping through south Louisiana and headed for Grand Coteau. Just before he got there, he received a letter from his wife, Mary Theodosia Palmer, asking him to spare the Academy and the nuns and students who lived there. It happened that the Banks' had a daughter in a Sacred Heart school in New York.
The mother superior of the Grand Coteau school had written to the superior of the New York school pleading with her to speak to Mrs. Banks. She did, and the result was that Mrs. Banks convinced her husband to protect the school. So, the general issued an order to his men:
"....𝘱𝘳𝘰𝘵𝘦𝘤𝘵 𝘵𝘩𝘦 𝘱𝘳𝘰𝘱𝘦𝘳𝘵𝘺 𝘢𝘯𝘥 𝘱𝘦𝘳𝘴𝘰𝘯𝘴 𝘰𝘧 𝘵𝘩𝘦 𝘊𝘰𝘯𝘷𝘦𝘯𝘵 𝘢𝘯𝘥 𝘵𝘩𝘦 𝘊𝘰𝘭𝘭𝘦𝘨𝘦 𝘰𝘧 𝘎𝘳𝘢𝘯𝘥 𝘊𝘰𝘵𝘦𝘢𝘶. 𝘛𝘩𝘦 𝘷𝘪𝘰𝘭𝘢𝘵𝘪𝘰𝘯 𝘰𝘧 𝘵𝘩𝘪𝘴 𝘴𝘢𝘧𝘦𝘨𝘶𝘢𝘳𝘥 𝘸𝘪𝘭𝘭 𝘣𝘦 𝘱𝘶𝘯𝘪𝘴𝘩𝘦𝘥 𝘸𝘪𝘵𝘩 𝘥𝘦𝘢𝘵𝘩."
This little-known piece of south Louisiana history is revealed in the newly published book, "𝘛𝘩𝘦 𝘈𝘤𝘢𝘥𝘦𝘮𝘺 𝘰𝘧 𝘵𝘩𝘦 𝘚𝘢𝘤𝘳𝘦𝘥 𝘏𝘦𝘢𝘳𝘵 𝘢𝘵 𝘎𝘳𝘢𝘯𝘥 𝘊𝘰𝘵𝘦𝘢𝘶: 200 𝘠𝘦𝘢𝘳𝘴 𝘢𝘯𝘥 𝘊𝘰𝘶𝘯𝘵𝘪𝘯𝘨...," available from the publisher at
www.acadianhouse.com.
The Academy, which celebrated its 200th anniversary in October 2021, is the longest continuously running Sacred Heart school of all 150 such schools in the world today. This may not have been the case if it weren't for the intercession of the general's wife.
---