The Truth about the 'Cajun Navy'
in
Facebook Posts
,
Louisiana History
---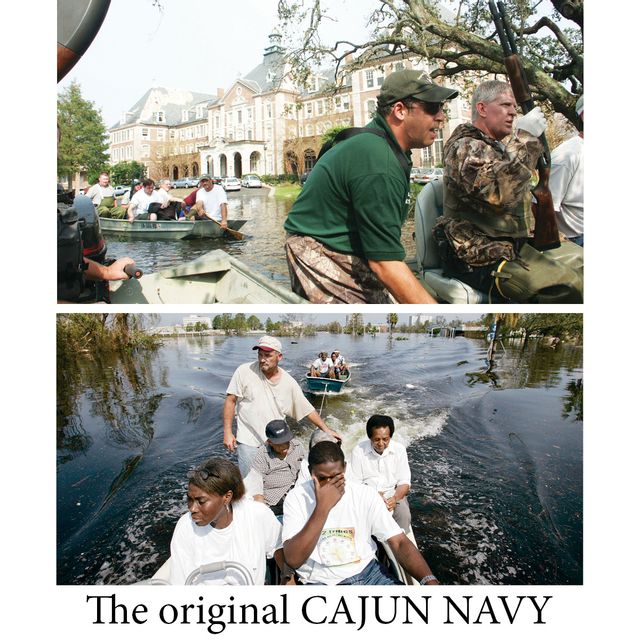 The hurricane season is upon us again, and it's the right time for the true story of the founding of "The Cajun Navy."
     Simply put, 𝘁𝗵𝗲 𝗼𝗿𝗶𝗴𝗶𝗻𝗮𝗹 𝗖𝗮𝗷𝘂𝗻 𝗡𝗮𝘃𝘆 started in the mind of State Sen. Nick Gautreaux of Abbeville, La., as he watched on TV the images of terrible destruction and desperate people trapped by the floodwaters of Hurricane Katrina. This was on August 31, 2005, two days after the storm came ashore.
     Moved by compassion for his fellowman, Sen. Gautreaux contacted the Lafayette, La., TV stations asking them to broadcast a public service announcement: 𝘌𝘷𝘦𝘳𝘺 𝘢𝘣𝘭𝘦-𝘣𝘰𝘥𝘪𝘦𝘥 𝘤𝘪𝘵𝘪𝘻𝘦𝘯 𝘸𝘪𝘵𝘩 𝘢 𝘣𝘰𝘢𝘵 𝘪𝘴 𝘪𝘯𝘷𝘪𝘵𝘦𝘥 𝘵𝘰 𝘴𝘩𝘰𝘸 𝘶𝘱 𝘢𝘵 𝘵𝘩𝘦 𝘈𝘤𝘢𝘥𝘪𝘢𝘯𝘢 𝘔𝘢𝘭𝘭 𝘰𝘯 𝘑𝘰𝘩𝘯𝘴𝘵𝘰𝘯 𝘚𝘵𝘳𝘦𝘦𝘵 𝘪𝘯 𝘓𝘢𝘧𝘢𝘺𝘦𝘵𝘵𝘦 𝘣𝘺 5 𝘰'𝘤𝘭𝘰𝘤𝘬 𝘵𝘰𝘮𝘰𝘳𝘳𝘰𝘸 𝘮𝘰𝘳𝘯𝘪𝘯𝘨 𝘢𝘯𝘥 𝘥𝘳𝘪𝘷𝘦 𝘵𝘰 𝘕𝘦𝘸 𝘖𝘳𝘭𝘦𝘢𝘯𝘴 𝘵𝘰 𝘩𝘦𝘭𝘱 𝘳𝘦𝘴𝘤𝘶𝘦 𝘴𝘵𝘳𝘢𝘯𝘥𝘦𝘥 𝘧𝘭𝘰𝘰𝘥 𝘷𝘪𝘤𝘵𝘪𝘮𝘴.
     Gaureaux expected 30 to 40 boats and hopefully 100 people to come and form this citizen flotilla. But, incredibly, 300 to 500 boats showed up along with 600 to 800 people – from Lafayette, Abbeville, Lake Charles, Opelousas and other Acadiana communities. It was an impressive site as the caravan – stretching for miles, like a cargo train – moved on I-10 eastward over the Atchafalaya Basin. Men and women on a mission of mercy.
     "What we did was typical Louisiana," Gautreaux would say later. "We had doctors, lawyers, college students, nurses, working class people.... It's part of our Cajun heritage to help our neighbor. When New Orleans needed help, we were there to help them."
(Photos: At top is Nick Gautreaux, in green shirt; at bottom is boat captain Mickey Monceaux of Lake Charles.)
#cajunnavy #naturaldisasters #hurricanekatrina #hurricanerita #heroism #neworleans #southlouisiana #cajuncountry
---