Could 'Pistol Pete' Maravich fly?
---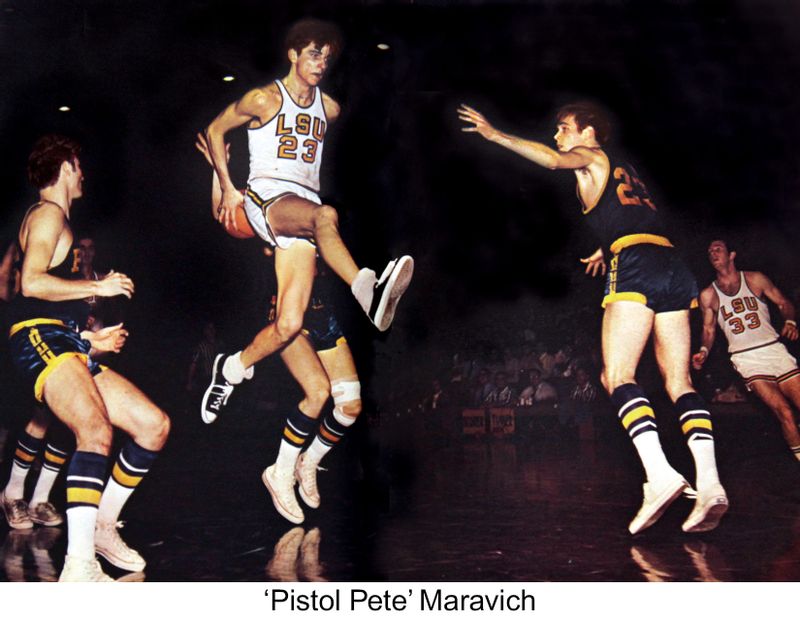 Judging from the picture shown here, you might think "Pistol Pete" Maravich could fly!
Here, he's gliding through the air and passing the ball behind his back as he evades Pittsburgh Panther defenders during a 1970 game in Baton Rouge.
Pete took LSU basketball by storm when he arrived on campus in 1966, then left for the NBA in 1970 as the top scorer in U.S. college basketball history. He averaged 44 points per game, a record that stands today and probably will never be broken.
Overall, he scored 3,667 points in three years of varsity basketball, making 50 or more points per game 28 times. He broke the NCAA record with 69 points in a game against Alabama, and even scored 65 in a game against mighty Kentucky.
His favorite shot was the pull-up jumper on a fast break, many times outside the top of the key. Had the 3-point shot been allowed in those days, his average would have been 10 points higher, that is, 54 points or a little more per game.
Pete was such a sensation – truly one of a kind – that even fans of rival teams sometimes cheered his truly spectacular plays. They could hardly believe what they were seeing – or thought they were seeing!
Pete did all of this with an undetected congenital heart defect that took his life at age 40, on Jan. 5, 1988. His dad, Press Maravich, who coached him at LSU and earlier, died only nine months before Pete. Ironically, soon after Press's death, Pete said to him, "I'll see you soon." More on the life, career and religious conversion of "Pistol Pete" can be found in the book by Sam King titled 𝘛𝘪𝘨𝘦𝘳 𝘉𝘦𝘢𝘵: 𝘊𝘰𝘷𝘦𝘳𝘪𝘯𝘨 𝘓𝘚𝘜 𝘚𝘱𝘰𝘳𝘵𝘴 𝘧𝘰𝘳 35 𝘠𝘦𝘢𝘳𝘴, available from the publisher at
www.acadianhouse.com/sports
. King, who wrote about football and basketball for Baton Rouge newspapers from 1956 to 2009, notes "We (sportswriters) were awed by Pete's skills: passing, dribbling, shooting, jumping, rebounding, defending...even pulling up his floppy socks." (The photo shown here was taken by Sam King.)
---