Catholic Church reform plan unveiled in award-winning book
---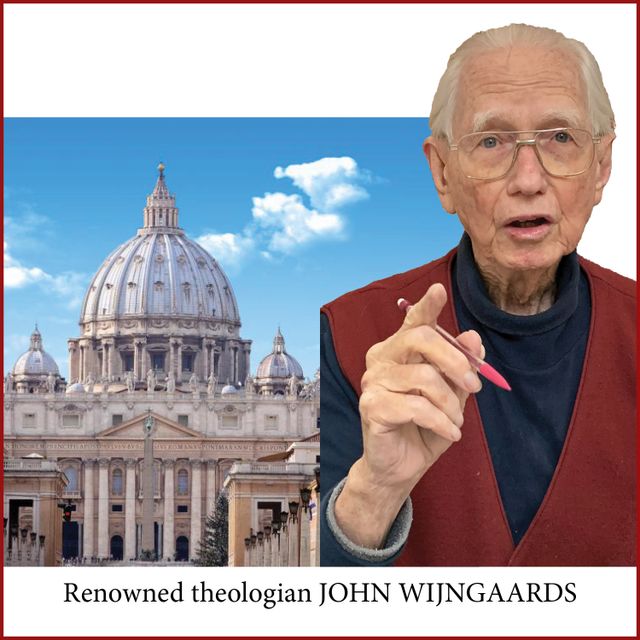 There's no doubt the Catholic Church has lots of room for improvement.
Theologians and others who have the Church's best interests at heart have been saying this for a very long time.
One such theologian is John Wijngaards, who is revealing his 10-part plan for Church reform in his new book titled "𝘛𝘦𝘯 𝘊𝘰𝘮𝘮𝘢𝘯𝘥𝘮𝘦𝘯𝘵𝘴 𝘧𝘰𝘳 𝘊𝘩𝘶𝘳𝘤𝘩 𝘙𝘦𝘧𝘰𝘳𝘮: 𝘔𝘦𝘮𝘰𝘪𝘳𝘴 𝘰𝘧 𝘢 𝘊𝘢𝘵𝘩𝘰𝘭𝘪𝘤 𝘗𝘳𝘪𝘦𝘴𝘵." The book is theologically sound, and recently was named "Best Book by a Small Publisher," awarded by the Catholic Media Assn. (Two years earlier, Wijngaards won the same award for another of his books, "𝘞𝘩𝘢𝘵 𝘛𝘩𝘦𝘺 𝘋𝘰𝘯'𝘵 𝘛𝘦𝘢𝘤𝘩 𝘠𝘰𝘶 𝘪𝘯 𝘊𝘢𝘵𝘩𝘰𝘭𝘪𝘤 𝘊𝘰𝘭𝘭𝘦𝘨𝘦: 𝘞𝘰𝘮𝘦𝘯 𝘪𝘯 𝘵𝘩𝘦 𝘗𝘳𝘪𝘦𝘴𝘵𝘩𝘰𝘰𝘥 𝘢𝘯𝘥 𝘵𝘩𝘦 𝘔𝘪𝘯𝘥 𝘰𝘧 𝘊𝘩𝘳𝘪𝘴𝘵."
Among his recommendations is that the Church open its doors to women to serve in the diaconate and priesthood. Another is that priests should be allowed to marry. Yet another is that the Pope should appoint open-minded, pastoral bishops – not narrow-minded bureaucrats who are intent on blocking all Church reform. Wijngaards' books are available from the publisher at
www.acadianhouse.com/spirituality-enlightenment
. "Hopefully, you will see how these changes for the better will breathe new life into a Church that has been stuck in the Middle Ages for far too long," Wijngaards writes.
#Womenpriests #Catholicchurch #churchreform #synod #synodalchurch #franciscans #jesuits #catholiclife #catholic
---