Hugh Thompson – A man of true courage
---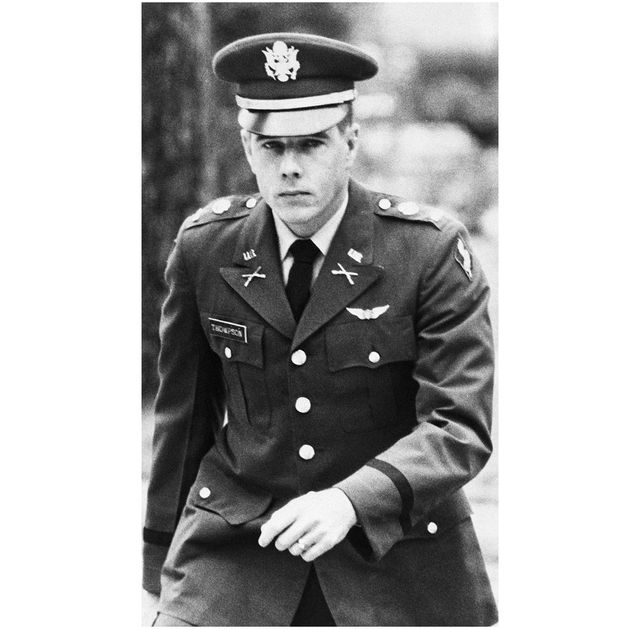 Even with the weight of the world on his shoulders, Hugh Thompson stood strong.
Though the most powerful man in the world wanted to stop him from revealing the truth about the My Lai Massacre, Thompson kept on testifying to the truth.
Thompson (1943-2006) is the 𝗨.𝗦. 𝗔𝗿𝗺𝘆 𝗵𝗲𝗹𝗶𝗰𝗼𝗽𝘁𝗲𝗿 𝗽𝗶𝗹𝗼𝘁 𝘄𝗵𝗼 𝗶𝘀 𝗰𝗿𝗲𝗱𝗶𝘁𝗲𝗱 𝘄𝗶𝘁𝗵 𝘀𝘁𝗼𝗽𝗽𝗶𝗻𝗴 𝘁𝗵𝗲 𝗠𝘆 𝗟𝗮𝗶 𝗠𝗮𝘀𝘀𝗮𝗰𝗿𝗲 𝗱𝘂𝗿𝗶𝗻𝗴 𝘁𝗵𝗲 𝗩𝗶𝗲𝘁𝗻𝗮𝗺 𝗪𝗮𝗿, on March 16, 1968. He was the Army's chief witness against the butchers of My Lai, who killed 504 unarmed civilians – women, children and old men.
𝗣𝗿𝗲𝘀𝗶𝗱𝗲𝗻𝘁 𝗥𝗶𝗰𝗵𝗮𝗿𝗱 𝗡𝗶𝘅𝗼𝗻 𝗶𝗻𝗶𝘁𝗶𝗮𝘁𝗲𝗱 𝗮𝗻 𝗲𝗳𝗳𝗼𝗿𝘁 𝘁𝗼 𝘀𝗮𝗯𝗼𝘁𝗮𝗴𝗲 𝘁𝗵𝗲 𝗠𝘆 𝗟𝗮𝗶 𝘁𝗿𝗶𝗮𝗹𝘀 – and turn the tables on Thompson – so no U.S. soldier would be convicted of a war crime. Thompson was testifying in closed-door Congressional hearings, and the plan was for Nixon's allies on the committee to threaten and intimidate Thompson into silence – to scare him into discontinuing his testimony. The congressmen tried to get him to admit under oath that he ordered his gunner to train his weapon on U.S. soldiers on the battlefield. Such an admission would have been grounds to court-martial Thompson. And this would have broken the back of the Army's case against Lt. William Calley and others accused of war crimes.
But Thompson refused to dishonor his country, his uniform, and his family. He continued testifying--in the Congressional hearings and in actual trials. One man was finally convicted – Lt. William Calley – and at least a modicum of justice was served in the killing of the Vietnamese civilians.
Without Thompson's testimony, without his courage to do the right thing, no one would have been convicted, though 504 civilians lay dead in Vietnam. The definitive story of Thompson's incredible bravery can be found in his biography, "𝘛𝘩𝘦 𝘍𝘰𝘳𝘨𝘰𝘵𝘵𝘦𝘯 𝘏𝘦𝘳𝘰 𝘰𝘧 𝘔𝘺 𝘓𝘢𝘪," available from the publisher at www.acadianhouse.com/biographies. What Thompson got for his heroism was to be treated as a traitor for the better part of the next 30 years. That changed in 1998 when he was awarded the Soldier's Medal – the highest award given by the U.S. Army for heroism other than combat with the enemy. (The picture shown with this post is an Associated Press photo.)
#vietnamwar #heroism #mylaimassacre #hughthompson #usmilitary #politics #nixon #politicsandlaw
---