How did LSU baseball coach Skip Bertman win 5 National Championships?
---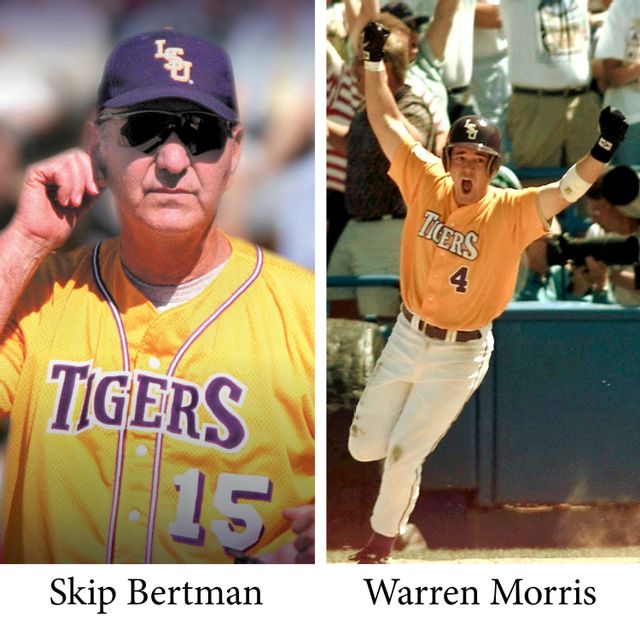 It's a well-known fact among baseball fans around the country that LSU's Skip Bertman is one of the winningest baseball coaches in college sports history.

How he got there is an intriguing story that involves " The Power of Positive Thinking," a knack for recruiting great players, and an extraordinary level of attention to detail. To motivate his players to victory he often told them:
" 𝘈𝘯𝘺𝘵𝘩𝘪𝘯𝘨 𝘺𝘰𝘶 𝘷𝘪𝘷𝘪𝘥𝘭𝘺 𝘪𝘮𝘢𝘨𝘪𝘯𝘦, 𝘢𝘳𝘥𝘦𝘯𝘵𝘭𝘺 𝘥𝘦𝘴𝘪𝘳𝘦, 𝘴𝘪𝘯𝘤𝘦𝘳𝘦𝘭𝘺 𝘣𝘦𝘭𝘪𝘦𝘷𝘦, 𝘢𝘯𝘥 𝘦𝘯𝘵𝘩𝘶𝘴𝘪𝘢𝘴𝘵𝘪𝘤𝘢𝘭𝘭𝘺 𝘢𝘤𝘵 𝘶𝘱𝘰𝘯 𝘮𝘶𝘴𝘵, 𝘢𝘣𝘴𝘰𝘭𝘶𝘵𝘦𝘭𝘺 𝘮𝘶𝘴𝘵, 𝘤𝘰𝘮𝘦 𝘵𝘰 𝘱𝘢𝘴𝘴."
Skip's 12 "Secrets to Success" are revealed in the newly released hardcover book titled " 𝙀𝙫𝙚𝙧𝙮𝙩𝙝𝙞𝙣𝙜 𝙈𝙖𝙩𝙩𝙚𝙧𝙨 𝙞𝙣 𝘽𝙖𝙨𝙚𝙗𝙖𝙡𝙡: 𝙏𝙝𝙚 𝙎𝙠𝙞𝙥 𝘽𝙚𝙧𝙩𝙢𝙖𝙣 𝙎𝙩𝙤𝙧𝙮," written by Glenn Guilbeau, one of the premier sportswriters in the South. It's available from the publisher at www.acadianhouse.com/sports. It contains chapters on all 5 of Bertman's National Championships; it reveals the words he used to recruit star players; and it tells the behind-the-scenes story of how he became LSU's Athletic Director after finishing his coaching career in 2001. It also features a Foreword by baseball superstar Warren Morris, hero of LSU's 1996 National Championship.
#collegebaseball #NCAA #LSUsports
---