Vietnamese woman forgives the butchers of My Lai
---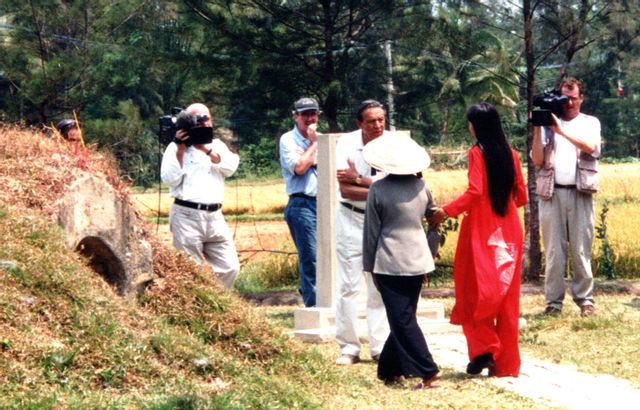 The infamous My Lai Massacre, which occurred during the Vietnam War, has yielded many stories of brutality and crimes against humanity.

But a related story of a different kind – an uplifting and unexpected twist to this tragic saga – wasn't known until now. It concerns an extraordinary offer of forgiveness to the U.S. soldiers who killed 504 Vietnamese men, women and children on that fateful day in March of 1968.

The offer was made in March of 1998 – 30 years after the massacre – by a woman who barely escaped death by a firing squad. In '98, Vietnam War heroes Hugh Thompson and Larry Colburn were in My Lai for the 30th anniversary commemoration of the people killed in the massacre. Thompson and Colburn, who are credited with stopping the massacre, were being interviewed by Mike Wallace of CBS News for a segment of "60 Minutes."

The survivor, named Pham Thi Thuan, accompanied by an interpreter, walked up to Wallace and said she wanted to meet Thompson and Colburn. Wallace introduced them. The woman thanked the two former soldiers for what they did to defend her people, then she asked them a question that stunned them. Referring to the soldiers who took part in the killing, she asked:

"Why didn't the others come back with you..."

Thompson and Colburn swallowed hard.

"...so we could forgive them," she added.

More on the My Lai Massacre and the men who stopped it can be found in the book, The Forgotten Hero of My Lai: The Hugh Thompson Story, available from the publisher at www.acadianhouse.com/history. In March of 1998, Thompson and Colburn were awarded the Soldier's Medal for their heroism. Their gunner, Glenn Andreotta, received the award posthumously. All three of these honorable soldiers are now deceased.
(The photo shown here shows Pham Thi Thuan, in coolie hat, approaching Mike Wallace of CBS News and producer Tom Anderson, in the baseball cap, in March of 1998 at My Lai.)
#vietnamveterans #politicsandlaw #usmilitary #hughthompson #mylaimassacre #heroism #vietnamwar #CBSNews
---