American heroes in our midst...
---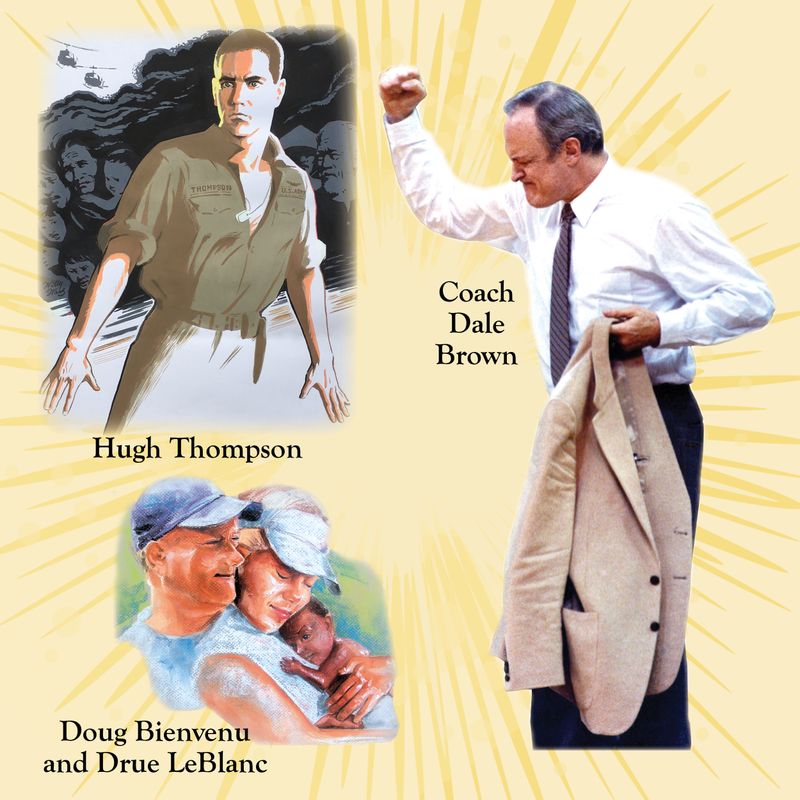 "Everywhere life is full of heroism," says the "Desiderata."

It's true. Heroism is all around us...if we just take the time to look.
The fearless deeds of three such heroes, all of whom lived in Louisiana, are featured in 𝗮 𝘁𝗿𝗶𝗹𝗼𝗴𝘆 𝗼𝗳 𝗯𝗼𝗼𝗸𝘀 𝗮𝗯𝗼𝘂𝘁 𝗔𝗺𝗲𝗿𝗶𝗰𝗮𝗻 𝗵𝗲𝗿𝗼𝗲𝘀 that will appeal to readers who enjoy stories that enlighten and inspire. (The first two books are already in print, and the third is coming out this summer.)
The first is titled "𝙏𝙝𝙚 𝙁𝙤𝙧𝙜𝙤𝙩𝙩𝙚𝙣 𝙃𝙚𝙧𝙤 𝙤𝙛 𝙈𝙮 𝙇𝙖𝙞: 𝙏𝙝𝙚 𝙃𝙪𝙜𝙝 𝙏𝙝𝙤𝙢𝙥𝙨𝙤𝙣 𝙎𝙩𝙤𝙧𝙮," about the courageous U.S. Army helicopter pilot who stopped the My Lai Massacre during the Vietnam War in 1968. (He lived in Broussard, La., and died in 2006 at age 62.)
The second, titled "𝘼𝙣 𝘼𝙞𝙧𝙗𝙤𝙖𝙩 𝙤𝙣 𝙩𝙝𝙚 𝙎𝙩𝙧𝙚𝙚𝙩𝙨 𝙤𝙛 𝙉𝙚𝙬 𝙊𝙧𝙡𝙚𝙖𝙣𝙨," features a Cajun Navy leader named Doug Bienvenu who took his airboat into New Orleans just after Hurricane Katrina flooded the city. He and his partner, Drue LeBlanc (who was dying of kidney failure) rescued hundreds of people who were stranded by the floodwaters. (The couple lived in Breaux Bridge, La.)
The third is titled "𝘿𝙖𝙡𝙚 𝘽𝙧𝙤𝙬𝙣 𝘾𝙤𝙪𝙧𝙩: ...𝙖𝙣𝙙 𝙩𝙝𝙚 𝘽𝙖𝙩𝙩𝙡𝙚 𝙛𝙤𝙧 𝙃𝙪𝙢𝙖𝙣 𝘿𝙞𝙜𝙣𝙞𝙩𝙮." It tells the story of former LSU basketball coach Dale Brown, who fought for 35 years to change dozens of NCAA rules that he said "legislated against the human dignity of student-athletes." As a result of his tireless campaign, 500,000 student-athletes per year are benefitting today – in all 1,100 NCAA schools, in every state in the U.S. (This book, coming out this summer, can be pre-ordered at www.acadianhouse.com/sports. The other two books, in stock now, can be ordered at www.acadianhouse.com/history.)
The author is veteran journalist Trent Angers of Lafayette, La., who was nominated twice for the Nobel Prize in Literature.
#coachdalebrown #hughthompson #dougbienvenu #heroism #americanheroes #lsusports #hurricanekatrina
---