Bayou Teche snake sculpture inspired by Chitimacha legend
in
Facebook Posts
---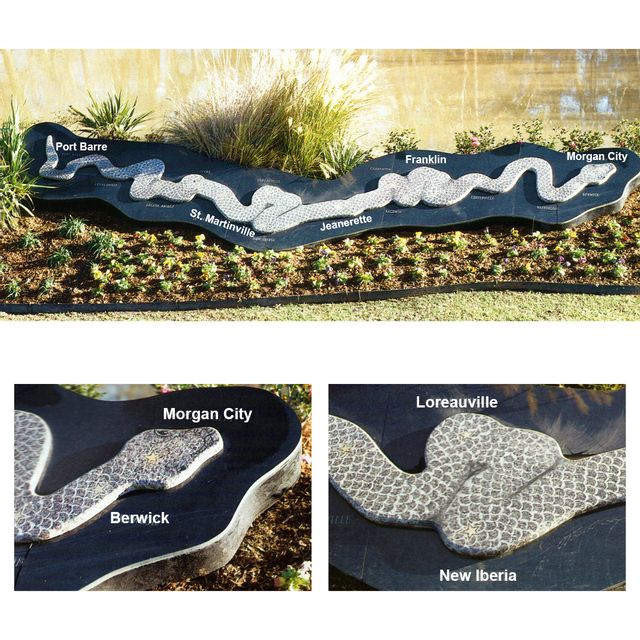 In Breaux Bridge, La., on the bank of the Bayou Teche sits a remarkable granite sculpture of a legendary snake. The body of the snake is designed to follow the exact shape and route of the bayou as it winds its way through the Teche Country of south Louisiana – from Port Barre and Breaux Bridge through New Iberia, Franklin and Morgan City.
    The sculpture was inspired by a Chitimacha legend involving a huge snake, many miles long, that was the enemy of the tribe. Legend has it that Chitimacha warriors finally killed the snake, and Bayou Teche was formed where the snake's body lay. (Bayou Teche in the Chitimacha language means "Snake Bayou.")
    More about this legend can be found here. Interesting details about the snake sculpture can be found here.
    Several books about intriguing south Louisiana, its people and its culture are available from Acadian House Publishing, at www.acadianhouse.com/south-louisiana-regional. These include 𝘎𝘳𝘰𝘸𝘪𝘯𝘨 𝘜𝘱 𝘪𝘯 𝘚𝘰𝘶𝘵𝘩 𝘓𝘰𝘶𝘪𝘴𝘪𝘢𝘯𝘢, 𝘛𝘩𝘦 𝘛𝘳𝘶𝘵𝘩 𝘈𝘣𝘰𝘶𝘵 𝘵𝘩𝘦 𝘊𝘢𝘫𝘶𝘯𝘴, 𝘊𝘳𝘰𝘴𝘴𝘪𝘯𝘨 𝘉𝘢𝘺𝘰𝘶 𝘛𝘦𝘤𝘩𝘦, and others.
#bayouteche #nativeamericans #indianlegends #louisianahistory #breauxbridge
---